News Food
Sep 11
This isn't why we go to instant tellers -
A time to reflect.
Ok, done with that?  Good.  Hurry up and insert your card.  People are standing in line behind you.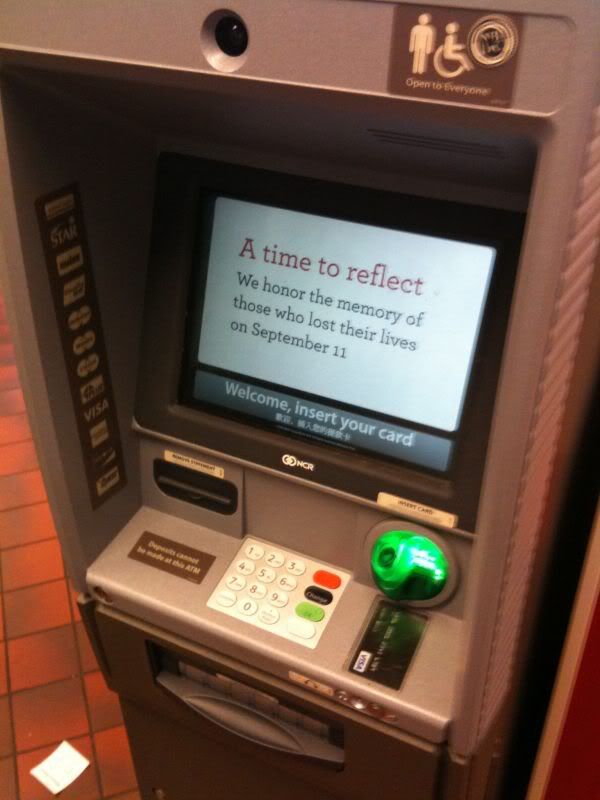 With no disrespect intended to victims of 9-11, we used this particular moment to reflect on how this is just one of many reasons to hate Wells Fargo and the idiots who run it.
What really happened at the fiasco known as the Heroes Music Fest?
Anger continues to build over the sudden cancellation this weekend, and now its organizer claims he was "taken advantage of" by mysterous, unnamed "people and companies."
Was he cashing in on 0-11 or is he a victim, too?
Southern Free Press has the latest on this debacle.
Sep 10
[video]
What's the plastic jug for, naked lady? -
Thank you so very much for these images, Google Earth. 
We may never be the same.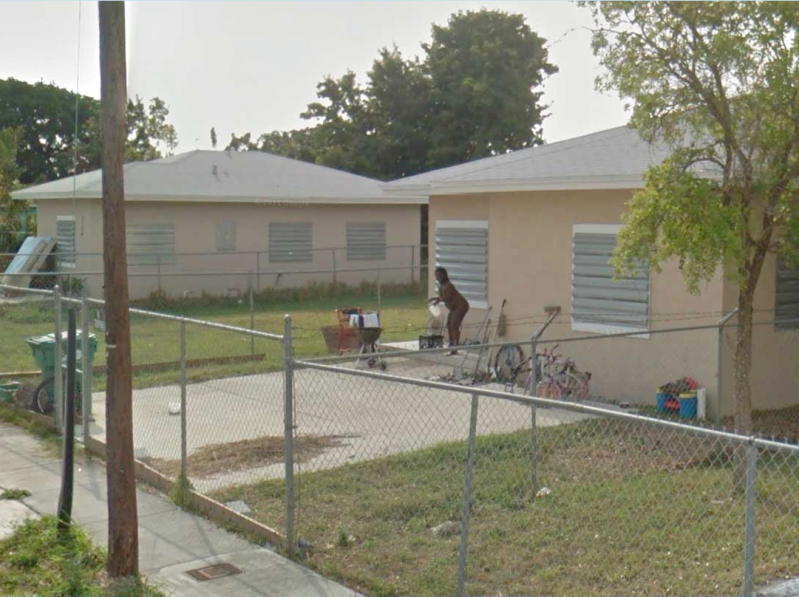 Friends don't let friends pierce -
According to police, "body piercing has become an on-going problem" at schools in Fayette County, Ga.
Right up there with wearing saggy pants, no doubt.
Generally speaking, we question why law enforcement officers even have an opinion on the subject, let alone whether they have crime statistics to back up such an absurd statement.
Granted, we do agree piercings should be voluntary. And that isn't always the case, it seems.

Just the other day, a 13-year-old girl decided to let classmates pierce her belly button at Fayette County High School, then changed her mind — only they didn't change their minds.
Naturally, some dork went to narc them out to the assistant principal, who did what assistant principals do, and proceeded to intervene to prevent the forced piercing.  Then, he called local police.  Because, you know, he's a dork, too. 
And, to be fair, it was a piercing-related crime.  You know what a problem that's become.
"An emergency medical technician checked out the 13-year-old, and she was fine," said a news article.
The "victim" and three of her friends were arrested.
Woman dies after injecting hot beef fat into face -
Memo to self:
Remember not to inject hot beef fat into face.
For the first time in years, there's a reason to watch the Miss Universe pageant.
Apparently, Miss Colombia has been showing off some home grown — and we're not talking about weed.
Catalina Robayo, it seems, doesn't wear panties. 
According to someone identified only as "a source" quoted by FOX News:  "People have been pretty upset by it; there have been photos and media appearances where she has completely had her crotch out."
And that's a problem becauseeeeeee…?
That quote is stupid on so many levels we don't even know where to begin.
Ok, that's a lie.  We do know where to begin:
What anal retentive weirdo at FOX News decided the "source" used a semicolon when he or she said that?
Masterpieces of the Brogan Museum -
It may be gone by the time you take a look, but the illustration below appeared exactly as you see it on the WSTP-TV  Channel 10 (Tampa) website, with a story titled, "Famous painting stolen by Nazis winds up in Tallahassee museum":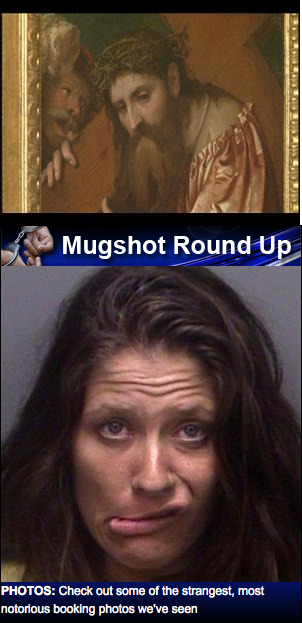 The article explains:



Tallahassee, Florida - A museum in Tallahassee finds itself at the center of a fascinating international mystery involving a nearly 500-year-old piece of art believed to have been stolen by the Nazis during World War II.




The painting, called "Christ Carrying the Cross Pulled Up by a Soldier" is on loan to the Brogan Museum from another museum in Milan, Italy.




Now U.S. authorities are directing the Brogan Museum not to return the famous painting until they can figure out its rightful owners.




They say a picture is worth a thousand words, but the story behind this famous painting could fill a novel.
[video]
Sep 07
Romni-Wan:  These aren't the droids you're looking for.
Stormtrooper:  These aren't the droids we're looking for.
Romni-Wan:  We can go about our business.
Stormtrooper:  You can go about your business.
Romni-Wan:  Move along.
Stormtrooper:  Move along … move along.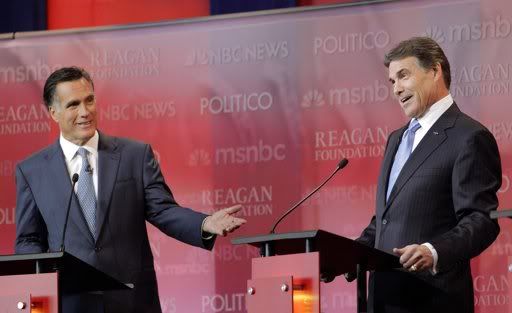 Sep 05
It's true!
The greatest morning crew in Atlanta radio history — Barnes, Leslie and Jimmy of 99x — were together again this weekend. 
Leslie Fram, headed for a new gig, held a Labor Day weekend "Moving To Nashville" yard sale.
These B, L & J bobbleheads are as close as we're going to get — for now, at least.
Maybe someday…
Aug 15
CW's "Vampire Diaries" is looking for "clean-cut white guys" between the ages of 35 and 40 years old.
Clean-cut black guys, clean-cut Hispanics, and the rest of y'all are just S.O.L.
For more information, e-mail vampirediariescasting@gmail.com.
Aug 14
[video]
Picture of the week.
Aug 13
[video]